Bizagi's Cloud Platform-as-a-Service Selected for U.S. Bank's Digital Transformation
Bizagi, a leader in digital process automation software, today announced that its Digital Business Platform has been selected by Farm Credit Bank of Texas. The new technology will help the bank meet the urgent need for digital innovation across its business systems and core banking processes. The Bizagi platform will be used to rapidly automate business processes, creating new customer-centric processes through integration with Microsoft Dynamics CRM as well as replacing 350+ InfoPath forms.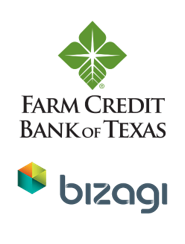 Bizagi's selection came as a result of a rigorous selection process carried out by Farm Credit Bank of Texas. The bank evaluated the technical capabilities and usability of several BPMS platforms against the requirement of solving a number of integration, efficiency and agility challenges.
According to Farm Credit Bank of Texas, Bizagi's Digital Business Platform was chosen for:
The 'open' nature of the software for easily connecting existing systems and data sources
The collaborative characteristic of the platform encouraging business and process owners to model process needs rather than creating traditional business requirement documents
The unmatched 'ease of use' of the platform as referenced by industry analysts
Bizagi's innovative cloud solution's alignment with the bank's own cloud-based strategy for 2017
"Bizagi Cloud is the perfect platform for us to launch our 'Cloud First' strategy across the organization. We can now make important steps forward in the digital efficiency and agility of our continually evolving digital banking platforms." – Michael Elliott, CIO, Farm Credit Bank of Texas
For Bizagi, the project provides further momentum behind the accelerating adoption of its Cloud PaaS offering in the United States:
"We are so excited to see the innovation and value offered by our platform-as-a-service offering being embraced by both new and existing customers as we continue to expand our presence in the US. We can't wait to see the incredible results that we know the strong team at Farm Credit Bank of Texas will be able to deliver." – added Gustavo Gomez, Bizagi CEO
Source: http://www.prweb.com/releases/2017/01/prweb14014229.htm